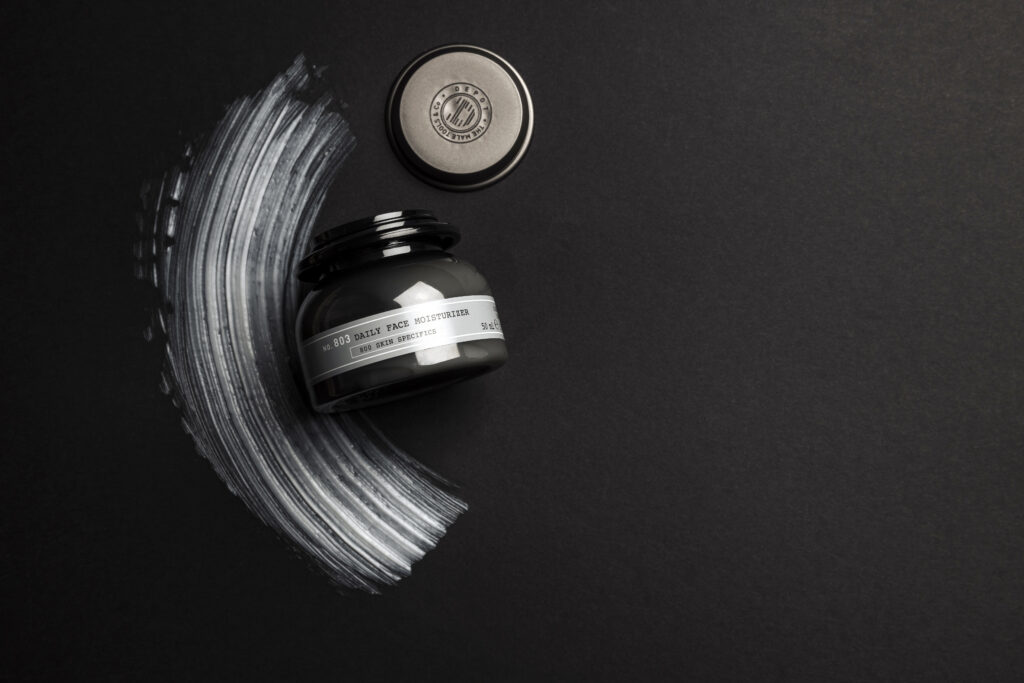 Every gentleman's Face Care routine should include a good face cream. Let's find out how and why it must to different to creams created for women.
Arriva per tutti il momento in cui la pelle del viso mostra le prime rughe, i primi segni di stanchezza o una pesante patina di "grigiore". Come se la pelle avesse messo l'interruttore sul tasto OFF. Questo momento segna spesso il passaggio all'azione: l'uomo si guarda allo specchio e decide che la sua pelle ha bisogno di essere trattata in modo diverso, a partire dall'idratazione quotidiana.
There comes a time for everyone when the skin of the face shows its first wrinkles, the first signs of fatigue or a sense of "greyness", as if the skin had "switched off" its luminosity. This moment often marks the transition to action: the man in question looks in the mirror and decides that his skin needs to be treated differently, starting with daily hydration.
Face creams are the first product that come to mind. Google searches bring up men's skincare, anti-aging creams. There are many products to choose from, because the male beauty sector is seeing rapid growth, but it's not always easy to choose the right product.
Women are culturally and socially more prepared on creams, and if collagen, retinol and hyaluronic acid are like letters of the alphabet in their skincare routine, men are still just beginning to get to grips with this concept. But learning to get to know our skin is like adding to a chapter in our story, a journey that can become very interesting.
The difference between male and female skin
Male skin is structurally different compared to female skin, this is why it needs specific products that respect its biology. Testosterone is responsible for the features of male skin which has 4 very distinct characteristics.
The first difference concerns the skin's thickness, which is 20-25% thicker than women's. Male skin contains much more collagen which gives thickness and firmness, and the content of this precious protein within connective tissue reduces at a constant rate. Therefore, thinning of the skin proceeds gradually, whereas in women, after the menopause, there is a rapid decrease in collagen and a clearly visible thinning of the skin.
The second difference is that men have more sebaceous glands and therefore more and bigger pores than women. This is why they product twice as much sebum as women do, which leads to greasy skin, acne and blemishes.
The third difference concerns aging: the first signs of aging appear later in male skin, but, once they begin, they follow on quickly. Male skin aging can be translated as being loss of muscular mass and sagging of the skin, combined with swelling of the eyes, bags and dark circles. Wrinkles appear later, but when they do, they are much deeper.
Last difference: male skin has slower microcirculation which makes it harder to eliminate dead skin cells and generate new cells. This excess of stagnant cells makes skin dull, and darker.
What do men of today want for their skin?
Before getting to specific products to combat wrinkles, men want to improve the general appearance of their skin. They want to look in the mirror day after day and rediscover luminous, healthy, fresh skin and, why not, maybe look a little younger. Men want effective products that are quick and easy to use, therefore creams that aren't greasy or sticky and that are absorbed quickly.
Beauty experts say 30 is the best time to buy a man their first face cream. Wrinkles haven't appeared yet, so a good moisturizer may be enough.
Moisturizing according to DEPOT – The Male Tools & Co.
NO. 803 DAILY FACE MOISTURIZER was created precisely to combat the lack of hydration of men's skin, nourishing it and keeping it balanced without being greasy. When massaged into the face at the beginning and end of each day, it becomes a beauty ritual that helps to restore brightness to dull skin and strengthen the protective barrier of the skin.
It contains hyaluronic acid (which counteracts water loss and keeps the skin hydrated, for a young and healthy appearance), glycosaminoglycans (long molecules capable of positively influencing skin hydration and supporting the biological action of hyaluronic acid) and an active ingredient derived from the baobab tree (specifically designed to improve tone and elasticity of men's skin). There is also the emollient and nourishing properties of rice, soy and sunflower oil, sorbitol and glycerine and the antioxidant action of the vitamin E derivative.
The UV filter helps protect the skin from damage caused by exposure to sunlight. Perhaps not everyone knows that UVB and UVA rays destroy the barrier that retains moisture in the skin, so a moisturizer without a sunscreen is a cream that has a weaker effect.
Skincare during lockdown and restrictions
Lockdown has made our skin look worse, making it appear duller, greyish and tired. Stress, the short time spent outdoors, the lack of physical exercise and scrapped diets are all to blame. We can remedy this by correcting unhealthy behaviour, drinking more water to hydrate the skin from the inside and remembering to apply our face moisturizer every morning and every night, because even the best products don't work if used every other day. Skincare and consistency must go hand in hand and women know this better than us!