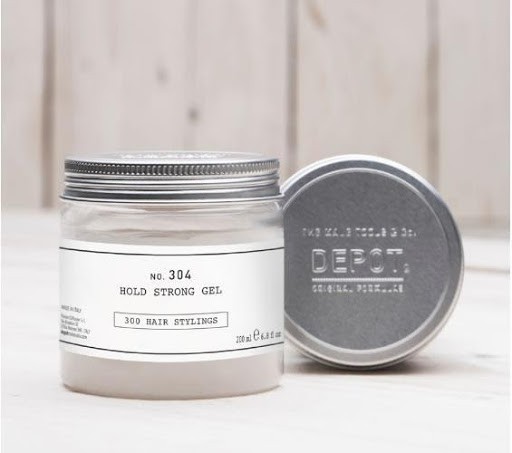 Keeping medium to long hair in check is not always easy, whether it's because we're busy, the weather is windy and damp, or simply because sometimes you wake up with crazy hair that just doesn't want to sit right. For this reason it's important to choose a good strong hold product you can rely on, that resists everything and maybe gives some extra shine to your hair. We have the solution: we present the strong hold gel by DEPOT®.
Identikit
Name: N.304 HOLD STRONG GEL, DEPOT® THE MALE TOOLS & CO.
Ingredients: fixative polymers, which cover the hair giving structure and guaranteeing lasting support; a botanical complex of 12 plant extracts selected to nourish the hair fibre.
Use: it is advisable to apply it to wet hair, then shape the hair with your hands according to the shape you want, then finally comb using a wet comb. Offers long lasting strong hold
Loved because: it's suitable for all hair types, it is a high-definition styling product, which in addition gives shine to the hair. Especially when used on wet hair, it adds maximum shine to styling for a wet look effect. Last but not least, it helps keep your hair in place when it is growing and you've got flyaway strands.
Facts about hair gels: this is the ideal product to achieve a wet look style, but where does this particular type of hairstyle come from? The real boom was experienced in the '80's, but the '90's are also closely linked to the wet look, which cyclically come back in fashion and is always current. What does it owe its success to? Surely the appeal of shiny hair plays an important role, together with the fact that it can be adjusted to well-set hairstyles or on more dishevelled and wild looks.
Related products: those who want to use the gel for daily styling know that they will have to include hair washing in their evening routine before sleeping to remove all trace of product. In order not to weaken the hair, it is therefore necessary to choose a shampoo that's suitable for frequent washing such as NO.101 NORMALIZING DAILY SHAMPOO DEPOT® THE MALE TOOLS & CO., formulated with delicate surfactants and without SLES.