They observe, desire, cry. They laugh and dream. Your life is reflected in your eyes, that demand to be taken care of in return.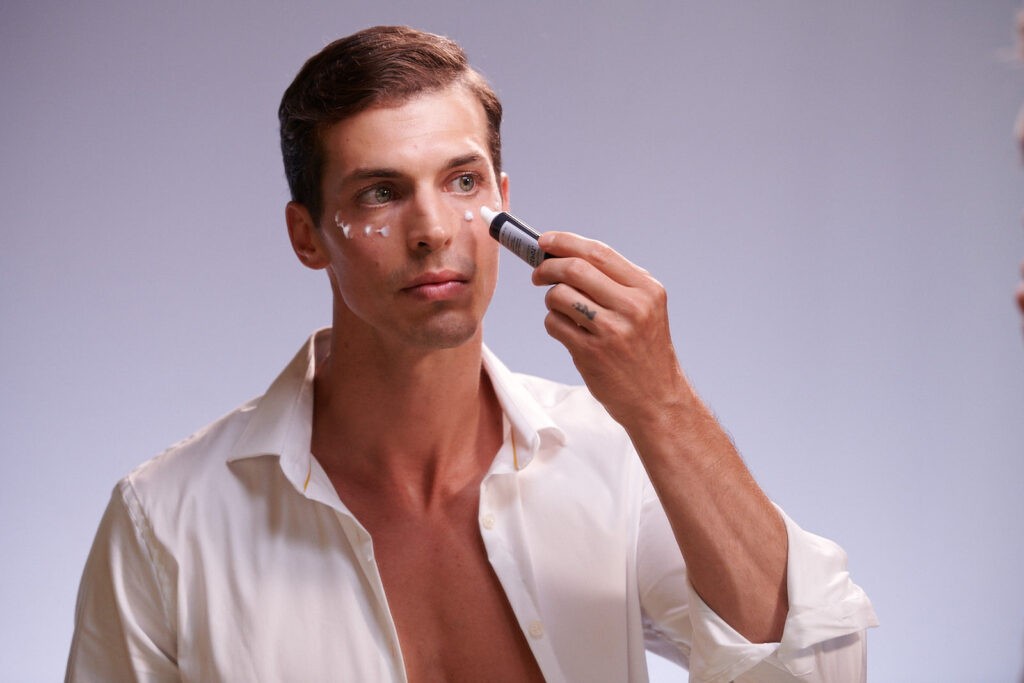 "Dark circles and eye-bags" are a real drag for many men, because puffy eyes and dark circles don't just affect men's eyes, but actually make the whole face look tired and fatigued.
The skin around the eyes is very delicate and requires important care, especially during skincare. The reasons for its fragility are diverse: it doesn't contain much fatty tissue, and compared to the rest of the face it has less follicles and less sebaceous and sweat glands, so is more inclined to irritation. The thinness of the skin of the lids in the eye area exposes this area making it lose its firmness quite easily, creating fine lines and wrinkles. From the age of 40, many of us look in the mirror and realise that in this area skin has lost its firmness, creating bags, dark circles, fine lines and crow's feet.
Fortunately, the time for brushing all this off or secretly stealing a bit of face cream from our female partners has come to an end. Today, male beauty requires specific targeted ingredients capable of illuminating and making the gaze look younger. If a few wrinkles give a man character, bags and dark circles certainly don't.
DEPOT dedicates NO. 804 MULTI-ACTION EYE CONTOUR to the eyes of men who are on the constant lookout for beautiful things and people, who love style, eyes that communicate, changing perspectives, and contagious smiles. A complete eye contour cream for men, which isn't just a cream that targets bags and dark circles.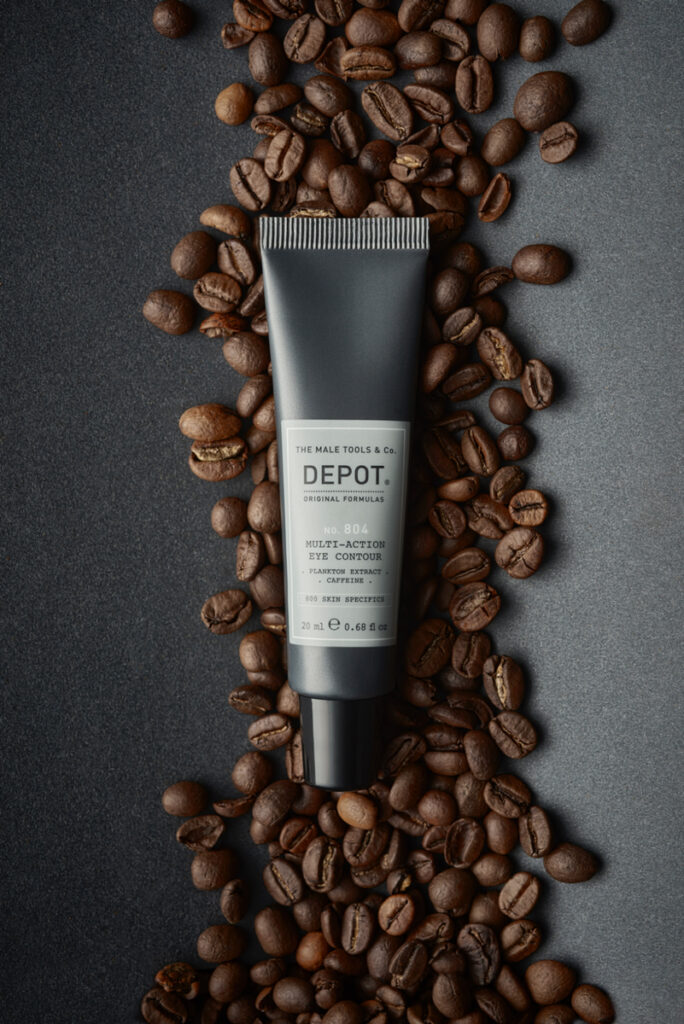 OPEN YOUR EYES: now you can count on a multi-functional cream-serum for the eyes to soften signs of fatigue and slow down the aging process, for a younger, fresher and brighter gaze.
I LIKE IT: its formula with natural ingredients minimises the risk of allergies and unwanted reactions.
PLEASE NOTE N°1: the eye area is the area with the thinnest skin of the face and is the first to show signs of fatigue, dehydration and wrinkles.
HOW TO: every morning and/or every evening, spread an even amount of NO. 804 MULTI-ACTION EYE CONTOUR over the area. Tap gently with the fingertips to make the product penetrate deeper into the skin, until it is completely absorbed. Experts recommend doing this from the nose outwards. Massaging with the fingers is simple but useful because it stimulates microcirculation and helps make the gaze look fresher and more relaxed.
PLEASE NOTE N°2: the eye cream should be applied both morning and evening for visible results. If you can't keep up this routine, then stick to the evening so that the cream can have all night to work its beauty magic. It's during the night that skin is more receptive and produces collagen, the substance that favours cellular renovation and removes accumulated waste, fighting against free radicals.
GOOD INSIDE: its formula containing selected active ingredients elaborated with the best technologies allows men to make the most out of their beauty benefits.
Plankton extract: counteracts the deterioration of collagen and elastin and signs of fatigue around the eyes, giving a more radiant, firm and relaxed gaze.
Caffeine: stimulates the microcirculation of the skin and counteracts water retention which is responsible for bags around the eyes.
Baobab derived active ingredient: developed specifically for male skin, it improves elasticity and tone, giving skin a youthful, fresh look.
Soothing active ingredient: a next generation ingredient with calming and soothing properties, suitable for sensitive skin.
Grape vine leaf extract: counteracts oxidation stress and contributes to making skin softer and smoother.
Pomegranate and oat extract: protective and conditioning for the skin
Vitamin E: antioxidant
BEST FRIENDS: for a complete facial treatment, we recommend cleansing the face with NO.801 DAILY SKIN CLEANSER and applying NO. 803 DAILY FACE MOISTURIZER.
TO BE HONEST: many men ask themselves "should I be using an eye cream too?" but don't share this with anyone. We will answer this question for you, inspired by skincare experts: it is good practice to begin using an eye cream in your twenties to keep skin firmer and fresher. For this area of the face, which is so delicate, the rule is "prevention is better than cure".