A well-kept beard is nourished by a specific conditioning oil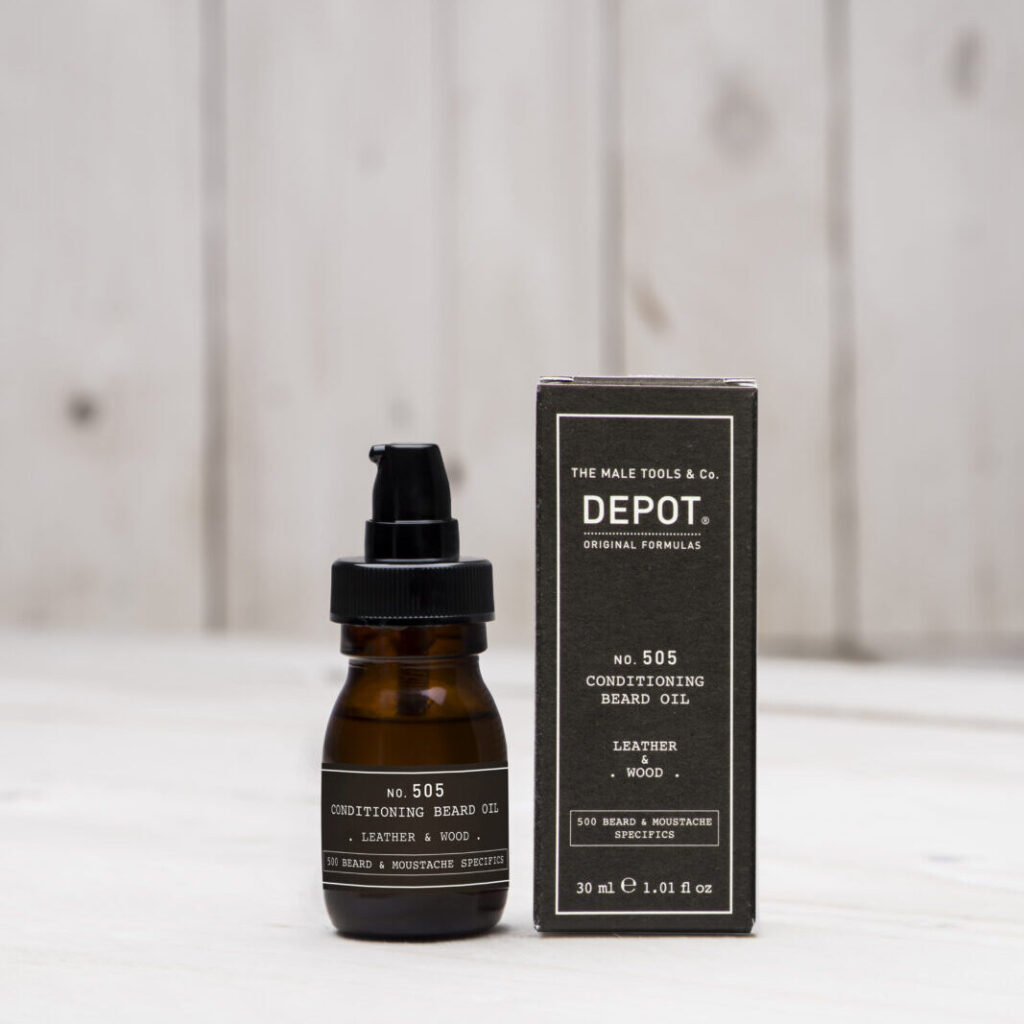 Beards that women like (link articolo correlato) and satisfy male vanity are well-kept, soft and shiny. To keep them that way, beard shampoo and conditioner aren't enough (link prodotti), the softening effect is increased with the use of a nourishing beard oil. To see how efficient this product is, check if the beard and moustache are knot-free, soft and intact. This oil by DEPOT® THE MALE TOOLS & CO. nourishes, conditions, gives control and shine to the beard, with a pleasant and unique fragrance. It is absorbed quickly, it's non-greasy, it helps to eliminate knots in medium-long beards which are often fragile and difficult to manage.
Identikit
Nome: NO.505 CONDITIONING BEARD OIL, DEPOT® THE MALE TOOLS & CO.
Ingredients: apricot kernel oil, jojoba oil, rapeseed flower oil, sunflower oil – nourishing, emollient and conditioning; minerals, oleic acid, vitamin E – antioxidant and protective.
Use: dose two to five drops of oil into the hand (depending on the length of the beard), distribute by massaging through the beard and moustache in all directions; brush with a wooden comb for best distribution of the oil. It is possible to repeat the process once a day, if needed.
Loved because: this beard oil is available in three different fragrances. Ginger and cardamom, energizing and regenerating; vanilla, warm and enveloping; leather & wood, intense and decisive. Every man can choose his ideal fragrance.
Facts on beard oil: historically, the first people to use something similar to beard oil were the Babylonians of Mesopotamia, renowned for their very long beards that were almost architectural. According to certain historical sources, men in higher social classes habitually dipped their beards in henna and gold powder. In Ancient Greece, once a boy had grown his first beard, he was not allowed to cut it and had to take care of it often with olive oil as a sign of respect to Apollo, the Sun God. This tradition was brought forward by the Romans: a boy's first shave was celebrated as a ceremony, and olive oil was used as an ointment and as a good omen to continue to have a strong beard in the future. Native Americans used various oils found in nature to protect themselves from the cold winters, such as sweet almond oil and oil extracted from grapeseed. This takes us to 1860, when a London barber called Alexander Rowland invented the first beard conditioning oil using ylang-ylang, coconut and palm oils, creating a product that is similar to products sold today, in different variations.
Associated products: 1st step, a delicate beard shampoo such as NO. 501 MOISTURIZING & CLARYFING BEARD SHAMPOO DEPOT® THE MALE TOOLS & CO.; to follow the oil, a butter that gives definition, NO. 502 BEARD & MOUSTACHE BUTTER, DEPOT® THE MALE TOOLS & CO. If travelling,you can also use the practical NO. 504 BEARD & MOUSTACHE CLEANSING WIPES DEPOT® THE MALE TOOLS & CO.