A medium hold hair gel that's easy to use and very versatile, to give shape to men's short haircuts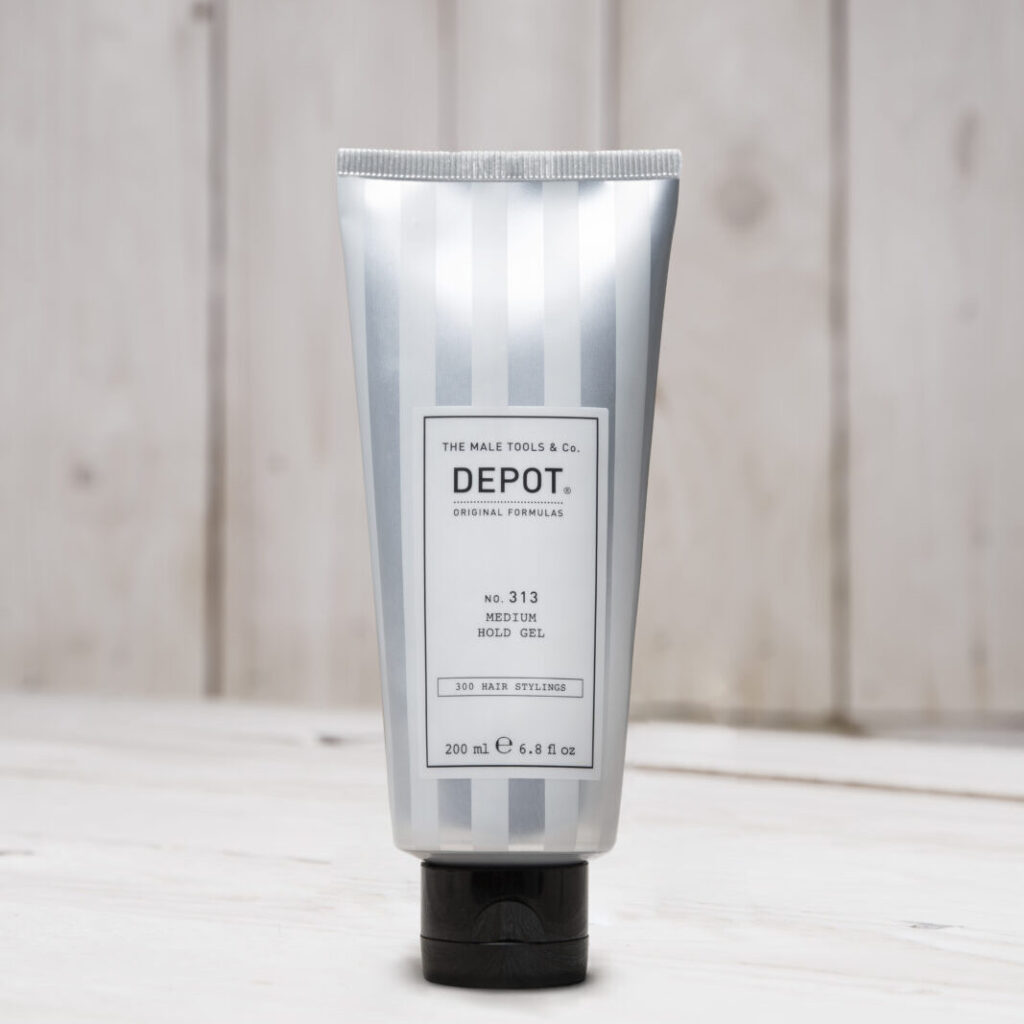 Hair gel is surely one of the most popular products for male hair styling. The return of retro looks with back-combed hair or with sculpted and tidy quiffs have made medium hold hair gel become an essential styling item. We present the flexible medium hold hair gel by DEPOT®, a versatile product that's particularly suitable for short hair cuts.
Identikit
Name: NO. 313 MEDIUM HOLD GEL, DEPOT® THE MALE TOOLS CO.
Ingredients: anti-static fixative polymers – responsible for giving hold and a modelling effect; a botanical complex of 9 plant extracts; sunflower oil and black tea extract – with an antioxidant action; sorbitol, aloe vera juice and glycerine – for hydration; UV filter – protects hair from sunlight.
Use: can be applied to wet or dry hair. Work between the hands and is distribute over the hair, shaping the strands to obtain the desired style. It offers a medium and flexible hold.
Loved because: it is a styling product with a soft and light texture, which facilitates its application. It gives hair shine, and its active ingredients keep hair hydrated and protect it from the fading and dehydrating effects of the sun.
Facts on hair gel: brillantine was the antecedent of hair gel, and for decades one of the only male vanity products allowed. From the super-groomed hair of Royal Air Force pilots to the gods of Hollywood, leading to the Teddy Boys of the '50's and punk mohawks of the '70's, until it gave its name to one of the most famous musicals of all time: it has definitely left its mark in the history of fashion.
Associated products: if gel is to be used on a daily basis for styling, it's important to remember that it must be removed from hair before sleeping. This means washing the hair frequently, and the ideal shampoo in this case is NO. 101 NORMALIZING DAILY SHAMPOO DEPOT® MALE TOOLS & CO. with its deep but gentle cleansing action with a toning and refreshing effect on scalp and hair.