When a hairstyle with a quiff is created, this type of style requires particular care, and here we present you the best products for this purpose
Combed backwards, to the side or forwards, high like a rockabilly… the quiff is an important element in male hair styles, it captures people's attention and talks about the personality of the person with the style. The hair style with a quiff must be accurate, but not by any means complicated: all that is needed is a bit of practice and the right products, with the sound advice of a professional barber.
How to choose how to cut the hair
Who suits a quiff? This depends on the shape of the face, but also the hair type. Short cuts or medium cuts qith backcombed quiffs are easier to wear, suit most people and are suitable for elegant occasions, but these require straight hair. Curly or wavy hair should opt for a short quiff worn forwards over the forehead: this is the idea solution to balance the proportions of a long face, or soften the features of a square face. Medium and long hair lengths suit a side quiff, with a "Brit" charm. What about the tall quiff? This elongates the face, so isn't suitable for long faces, but it can give the man wearing it a little more height.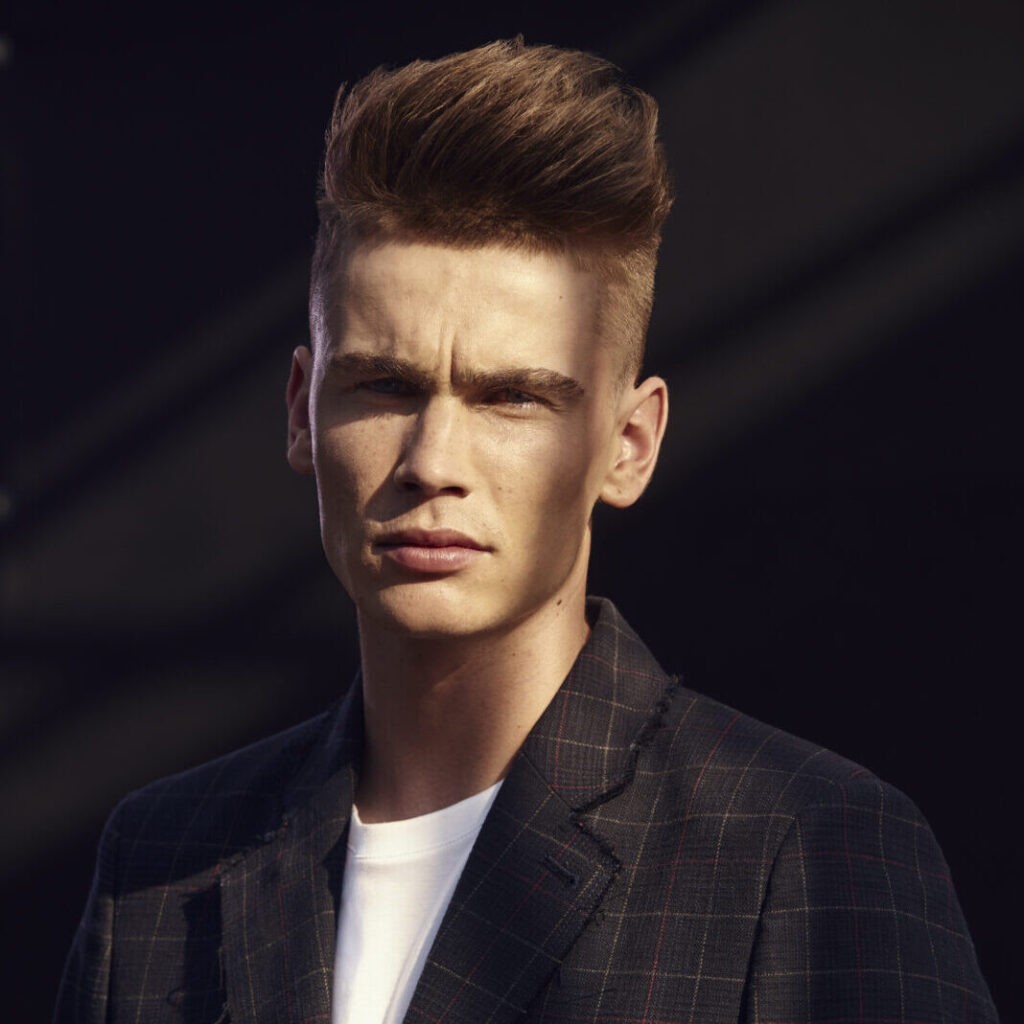 How to style a quiff
A backcombed style requires greater hold, obtained with a medium hold gel to keep hair in place without losing their natural effect. For this kind of style, NO.313 MEDIUM HOLD GEL di DEPOT® can be used. It should be applied to dry or wet hair, worked between the hands and distributed over hair to shape the quiff as desired.
Hair with a side quiff, on the other hand, can be left natural, or can have some hold with a shaping wax or hairspray for a less wild look. NO.303 MODELLING WAX di DEPOT® can be applied to damp or dry hair, guaranteeing long-lasting hold that is flexible and re-shapeable. Just a small quantity is needed to be softened between the hands to give shape and definition to a side quiff.
A tall quiff inspired by a rockabilly style requires volumizing products for a good final style. On hair that has just been washed, the texturising spray NO.305 VOLUMIZER di DEPOT® can be sprayed onto the quiff before drying with a blow-dryer to give volume and light hold to hair. A valid alternative is the volumising powder NO.309 TEXTURIZING DUST, to be applied to dry hair to give body and volume to a quiff.