Men's curly hair styles have a natural charm, but require a certain amount of care to stay charming.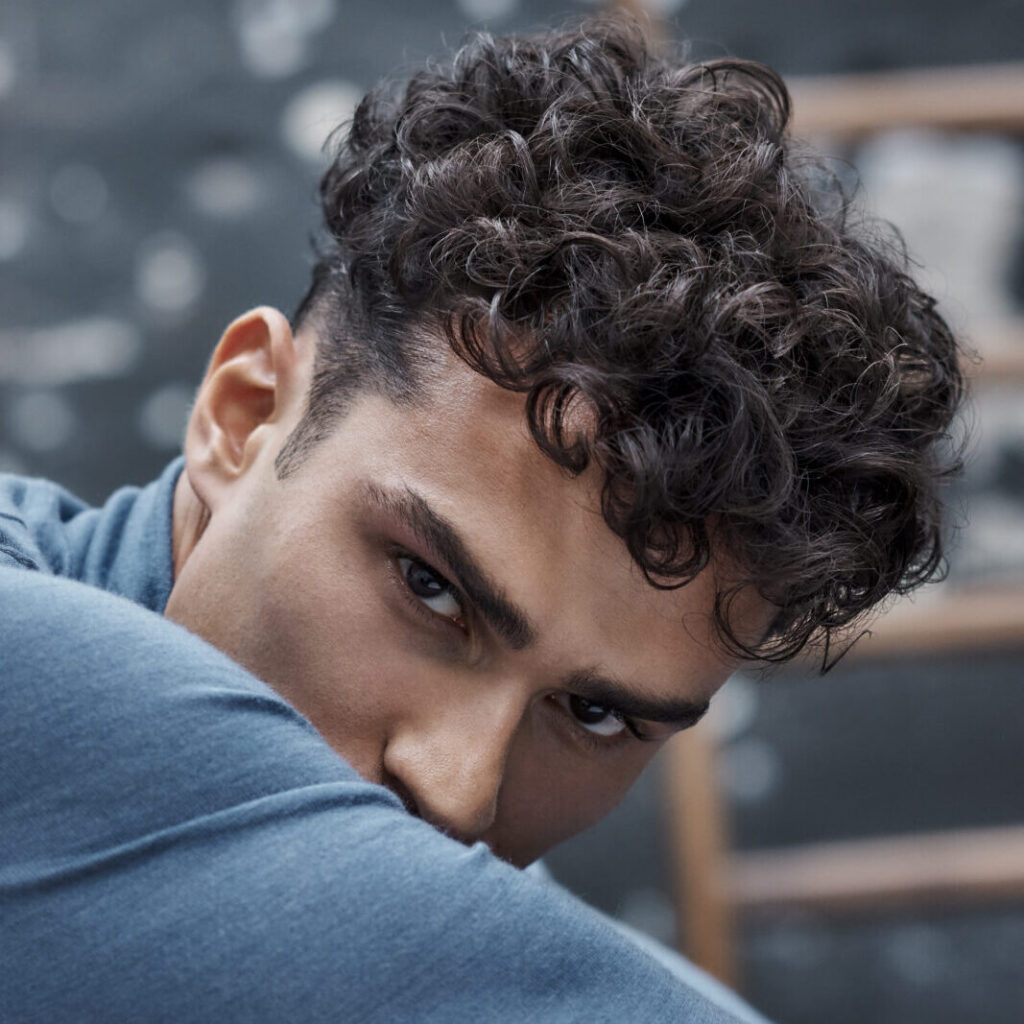 There are essentially two types of men with curly hair: those who wear their hair casually, and those who try to minimize its volume. It's a matter of personality, of course, but the shape of the curls also plays an important role. When it comes to men's curly hair, in fact, those with softer curls have more choice and are more likely to decide to let their hair grow, while those with a narrower type of curl will tend to choose short cuts to manage their curly hair more easily. Short curly hair, however, doesn't mean zero maintenance or trivial choices.
Short curly hair styles for men: how to choose the cut
When it comes to curly hair, the texture of the hair is a really fundamental aspect to consider to define the right cut, which complies with its nature and makes it easier to manage. For this reason it is best to rely on the advice of an expert barber and their scissors. Another important aspect, however, is the shape of the face. Shorter cuts are suitable for oval faces, especially if worn with a side parting, and for round faces, better if combed back to "lengthen" the face and balance its proportions. Cuts with very short hair on the sides and longer in the centre are suitable for triangular and diamond faces. Faces with more square features are those who most appreciate the softness of curly hair, perhaps with a quiff (link article importance of the quiff) to be left to drop over the forehead.
Short curly hair for men: how to take care of it
Even with a short cut, curly hair can be difficult to manage. The main problem? Dryness and consequently frizz, which make hair appear rough and messy. To avoid this, the first thing to do is to choose the right products to make the haircare routine easier and more effective. A fundamental step is that of cleansing, for which it is necessary to use a delicate shampoo that also contains moisturizing agents such as NO.103 HYDRATING SHAMPOO, DEPOT® THE MALE TOOLS & CO., with a balanced blend of non-aggressive washing agents and conditioning active ingredients between including macadamia oil to leave hair soft and nourished. Be careful not to overdo the washes, which should not be more than three a week to avoid the risk of stressing the hair too much. Curly hair then requires the action of a conditioner or a mask. NO.202 COMPLETE LEAVE-IN CONDITIONER, DEPOT® THE MALE TOOLS & CO., is a complete treatment with a mix of plant extracts that hydrates, conditions, protects and adds natural control to the hair; a few drops should be applied to clean, damp hair before proceeding with drying. To dry your hair, it is a good idea to set the hairdryer on a medium temperature and avoid the most powerful jet of air, which could make curls frizzy.
Men's short hairstyles for curly hair
When defining the style, the best thing to do is to gently shape the curly hair with your hands, possibly with the help of a wide-toothed comb, being careful not to touch the tips too much, which are the most delicate parts that are most subject to frizz. The ideal products, then, are creams or foams with a light texture such as NO.310 CURL DESIGNER, DEPOT® THE MALE TOOLS & CO. (link to product article), which takes care of the hair while giving shape and control to curls, counteracting frizz and giving hair shine.