An essential, targeted, efficient routine to take care of male skin. Here is some sound grooming advice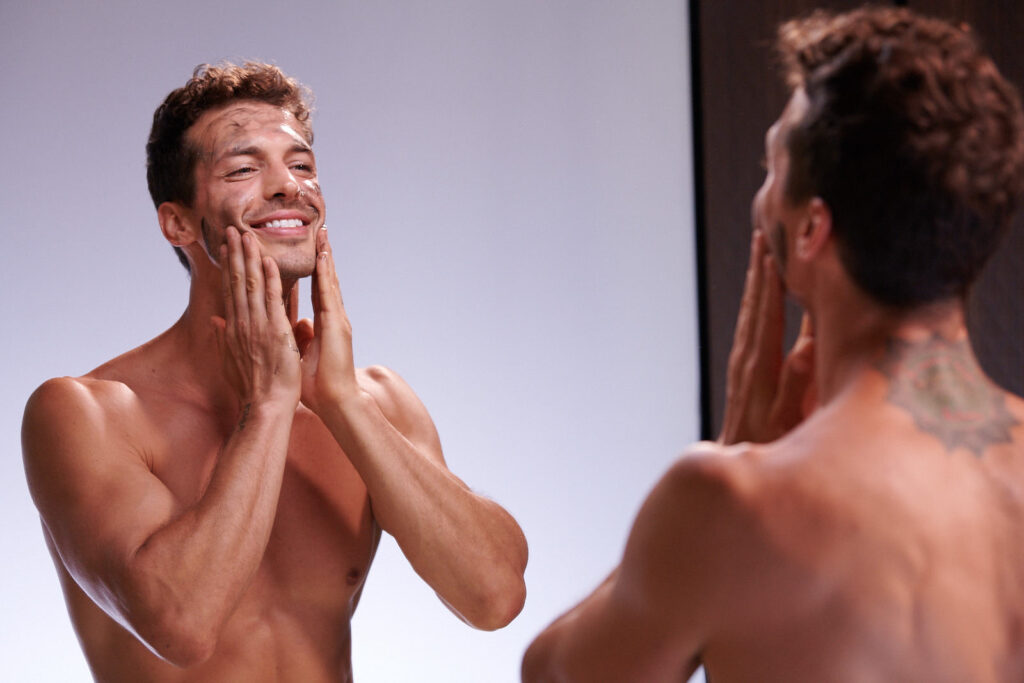 Men's relationship with beauty is now a well-known fact: self-care has no gender, it must simply be declined according to the particular needs of men's skin. Gone are the times of "stealing" from her cosmetic bag, today we are facing a market that offers specific formulas and targeted treatments for male beauty. The beauty routine, or rather, the grooming routine, is essential but without giving up these key points: facial cleansing, because men's skin tends to be oilier and thicker, and then hydration with the right face cream for men to refresh and avoid the feeling of "tight skin". This is why the 800 SKIN SPECIFICS line by DEPOT® – THE MALE TOOLS & CO was created, consisting of eight products for a specific and complete treatment, formulated with researched ingredients and characterized by a recognizable and distinctive masculine fragrance.
First: facial cleansing for men
From exposure to smog, product residue and other impurities that can clog the pores, cleansing the skin of the face is a fundamental gesture to be repeated every day to keep the skin healthy and supple as well as to avoid the appearance of annoying spots and other imperfections. Among the most effective and appreciated natural ingredients in the field of skin purification, activated charcoal certainly stands out, which effectively removes impurities with a gentle and non-aggressive action, without irritating the skin. It is not by chance that it was chosen for the formulation of NO. 801 DAILY SKIN CLEANSER, the cleansing gel for daily use by DEPOT®, together with other natural active ingredients to regulate sebum production and at the same time keep the skin supple and hydrated. To complete the facial cleansing routine for men, it is useful to alternate cleansing with an exfoliating treatment once or twice a week to promote skin renewal. Our advice is NO. 802 EXFOLIATING SKIN CLEANSER, DEPOT® volcanic sand cleansing scrub, to be used preferably in the evening and the day before shaving.
Next, balance: face moisturizers for men
To discover the joys of fresh and hydrated skin, you need to choose a face cream for men formulated with quality ingredients to nourish the skin (caution: you also need consistency in daily use, morning and evening). In addition to being exposed to external agents such as sun, wind and dry air indoors, men's skin is also irritated by shaving which, together with facial hair, removes part of the substances useful for maintaining its balance and natural defenses. To counteract the lack of hydration and give the face a radiant appearance, NO. 803 DAILY FACE MOISTURIZER by DEPOT® contains hyaluronic acid, one of the best known active ingredients for its natural ability to retain water in the skin, together with an active derived ingredient from baobab to improve its elasticity, and rice, soy and sunflower oils with an emollient and nourishing action. For those men who are always in a hurry, or simply prefer a lighter formula, we recommend NO. 815 ALL IN ONE SKIN LOTION, the versatile and complete fluid cream by DEPOT® for daily use.
To finish: face masks for men
Finally, a state of the art grooming routine cannot be complete without face masks, to be used daily, weekly, monthly or according to the needs of your skin. Concentrated and multitasking, they have the advantage of a more immediate and effective action than traditional face creams. For some years now, fabric face masks have been very popular, for an even simpler and fool-proof routine: just extract from the disposable sachet, spread over the face and wait the indicated time before removing them. The DEPOT® 800 SKIN SPECIFICS line includes three masks for different skin needs, either to tone the skin, nourish it deeply or revitalize it with an antioxidant action. In all cases, the beneficial relaxation effect they offer should be underestimated, "forcing" you to stop and take a break while you wait for it to act for your skin.