DEPOT 200 - HAIR TREATMENTS

Specific products that have been created to be used during the treatment phase to treat and protect hair from constant exposure to external aggressors and genetic conditions, responding to the needs of the scalp and hair, maintaining their vigour and shine.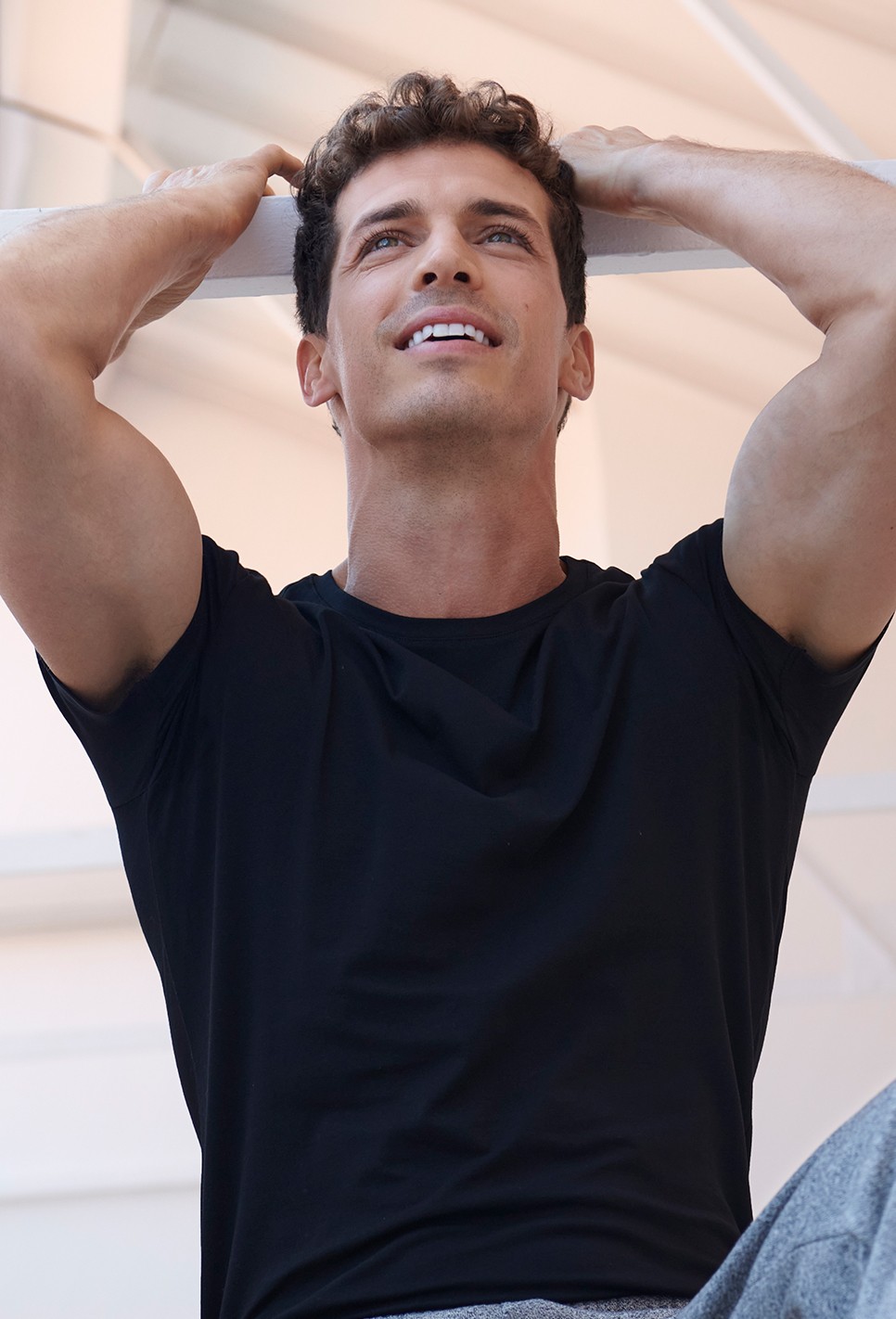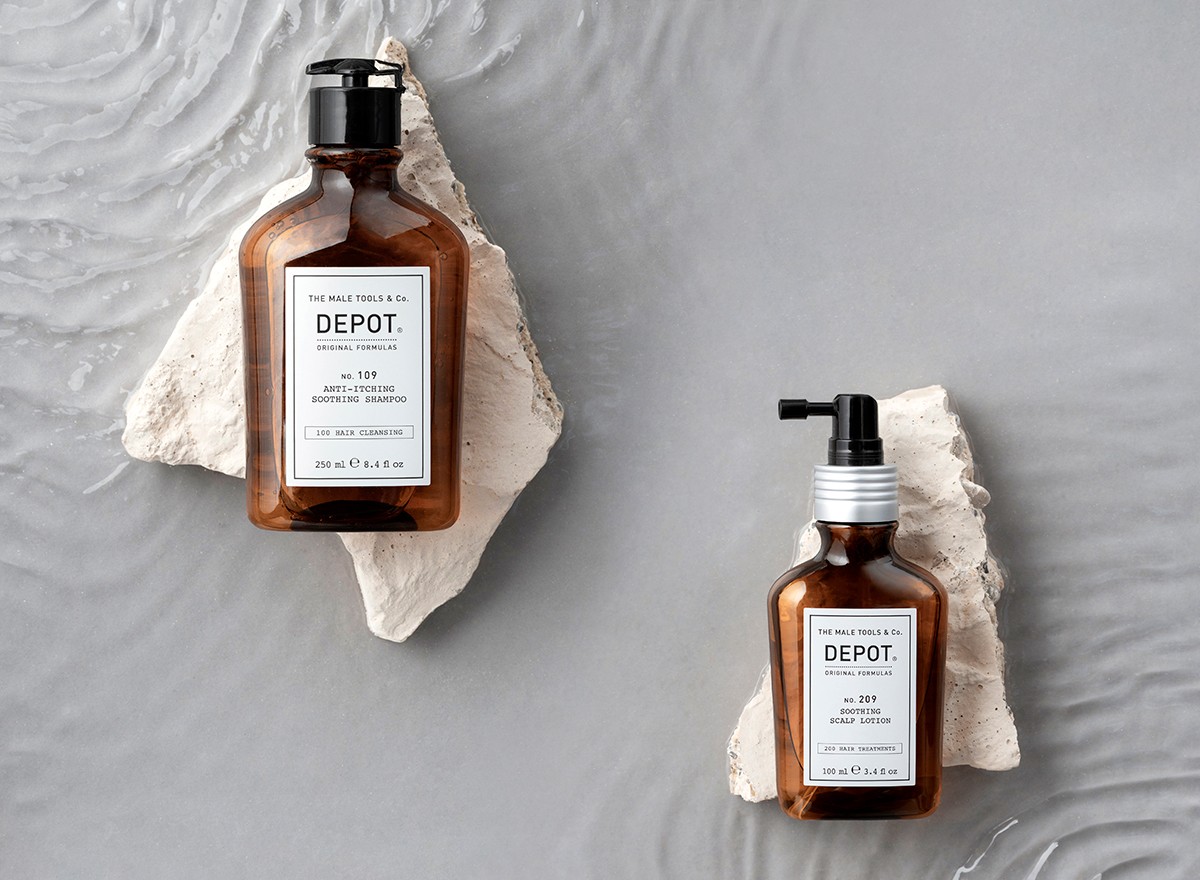 Everything that's new at DEPOT®
𝙽𝙾. 𝟸𝙾𝟿 𝚂𝙾𝙾𝚃𝙷𝙸𝙽𝙶 𝚂𝙲𝙰𝙻𝙿 𝙻𝙾𝚃𝙸𝙾𝙽
𝗖𝗮𝗹𝗺𝗶𝗻𝗴 𝘀𝗽𝗿𝗮𝘆 𝗳𝗼𝗿 𝘀𝗲𝗻𝘀𝗶𝘁𝗶𝘃𝗲 𝘀𝗰𝗮𝗹𝗽
Specific ingredients of natural origin such as got kola and aloe vera hydrate the scalp, soothing redness.
For cleansing:
𝙽𝙾. 𝟷𝙾𝟿 𝙰𝙽𝚃𝙸-𝙸𝚃𝙲𝙷𝙸𝙽𝙶 𝚂𝙾𝙾𝚃𝙷𝙸𝙽𝙶 𝚂𝙷𝙰𝙼𝙿𝙾𝙾
𝗖𝗮𝗹𝗺𝗶𝗻𝗴 𝘀𝗵𝗮𝗺𝗽𝗼𝗼 𝗳𝗼𝗿 𝗮𝗹𝗹 𝗵𝗮𝗶𝗿 𝘁𝘆𝗽𝗲𝘀
Formulated with delicate surfactants, it soothes scalp irritation.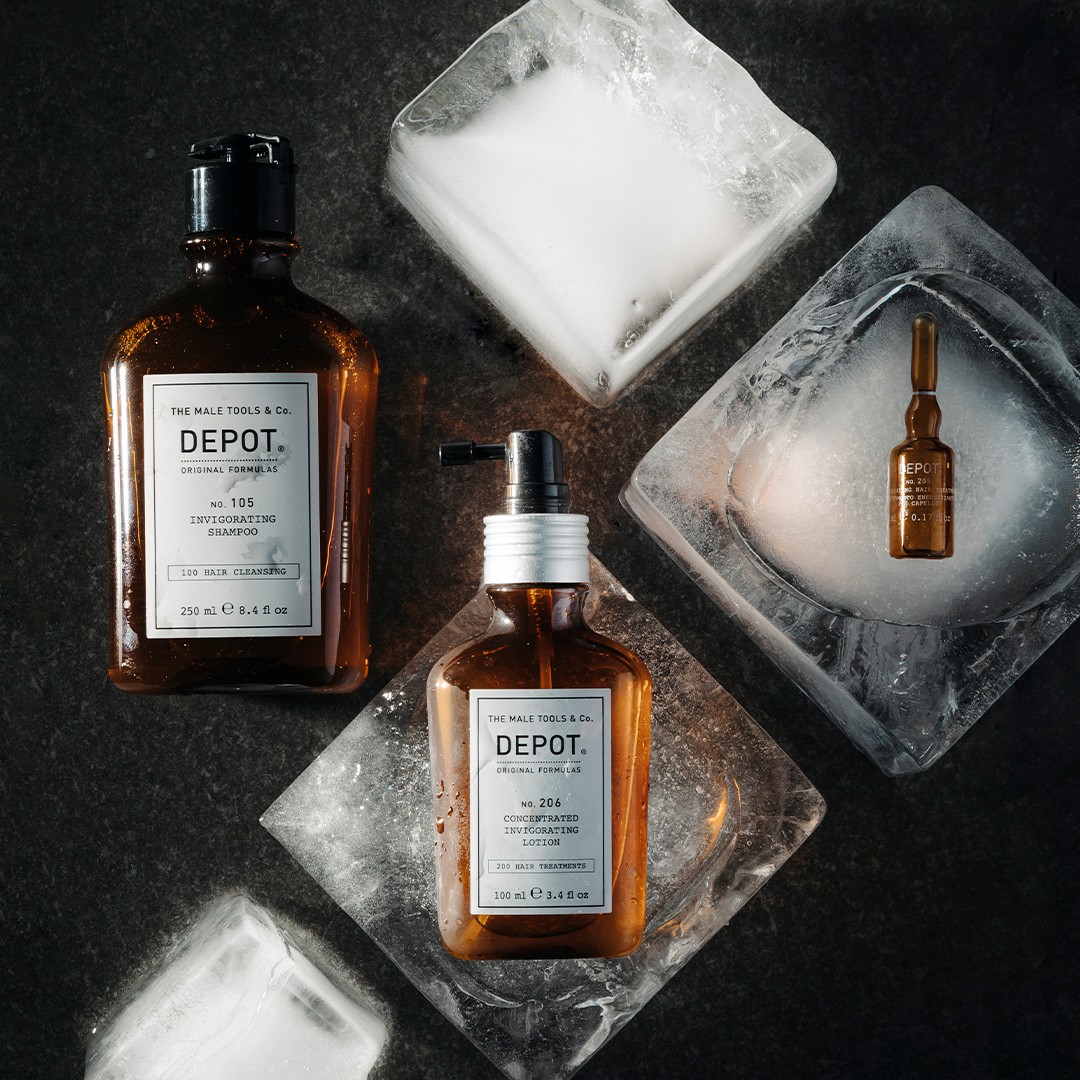 INVIGORATING KIT
The INVIGORATING range is designed to help you treat thinning hair.
Our kit provides you with regular treatment cycles using specific products: the combined action will give you an even more intensive invigorating action!
▪ NO. 105 INVIGORATING SHAMPOO – Invigorating shampoo;
▪ NO. 205 INVIGORATING HAIR TREATMENT – Invigorating hair treatment;
▪ NO. 206 CONCENTRATED INVIGORATING LOTION – Intensive energizing lotion.
TREATMENTS DEPOT®
Restoring the scalp's balance as well as taking care of the scalp are essential for healthy hair, which is why we have created specific treatments for every scalp type:
❯ Do you have an oily scalp, which needs to restore its sebaceous balance? REBALANCING HAIR TREATMENT
❯ Do you want to counteract flakiness? ANTI-FLAKINESS HAIR TREATMENT
❯ Do you have brittle hair, that's prone to thinning out? INVIGORATING HAIR TREATMENT
❯ Do you have a dry scalp that needs more hydration? MOISTURIZING SCALP TREATMENT
❯ Do you have a sensitive scalp, which tends to get irritated easily? SOOTHING SCALP TREATMENT
REBALANCING HAIR TREATMENT
ANTI-FLAKINESS HAIR TREATMENT
INVIGORATING HAIR TREATMENT
MOISTURIZING SCALP TREATMENT